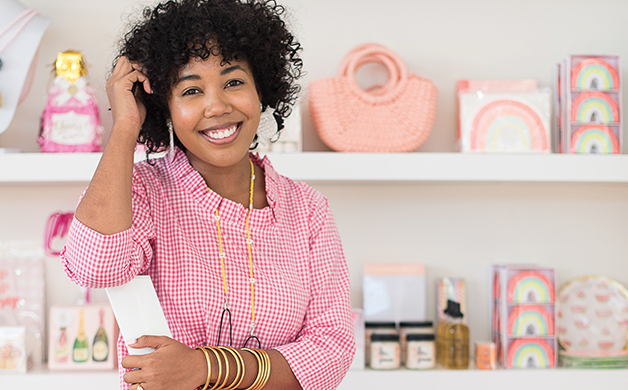 The Tiny Tassel: growing its business with a digital marketing strategy
Mimi Striplin remembers the date clearly: June 1, 2020. That's when demand for the one-of-a-kind tassel jewelry she'd been selling for five years took off, so much so that her website went viral. crushed.
That's when she suddenly had to think about expanding her small team, keeping more supplies on hand, opening a physical storefront. That's when an online business that started with $500 began to grow into a retail force that is now on its way to surpassing $1 million in annual sales.
"It was pure chaos," Striplin recalls, "in the best way possible."
Now the business called The Tiny Tassel operates out of a colorful store in downtown Charleston, has expanded to include apparel and accessories, and has been featured on everything from the network's morning shows to commercial programs.
It's all powered by Striplin, the founder, owner and creative force behind The Tiny Tassel, who has built her business through a savvy digital marketing strategy backed by vivid social media-ready photography.
"I didn't really have a plan," Striplin said. "I look back now and cringe, because I was really drifting away from that belief and faith in the business that I started to build. I knew that when I decided to quit my job full time, that would be the source of income I would have to support myself with.
"And that really lit a fire under me. Because when I decided to quit my full-time job, it was like "it's all or nothing" and it was really exciting to feel that motivation.
'OK, this is a real deal'
Originally from Spartanburg, Striplin moved to the Lowcountry to attend the College of Charleston and after graduation began working at a men's clothing store. A year later, she opened an Etsy shop to start selling the tassel earrings she made on the side.
She worked in the men's clothing store during the week and on the weekends she found markets or pop-up shops where she could sell her tassel jewelry. She began building a local following in addition to the one she had online, and realized it was time to take the leap.
"It was super rewarding because I was able to physically create something and then have customers around the world find my products," Striplin recalls. "I'll never forget the day someone made a purchase on Etsy that wasn't like a family member or a friend of a friend. He was just a complete stranger, and it was kind of the lightbulb moment of, 'OK, this is a real company.'
It was, and before long the media took notice – the "Today" show, outlets in the UK, countless blogs and platforms, all drawn to colorful toned pieces. bright, almost optimistic.
It was after one of these media bombardments that Striplin's website crashed due to all the demand.
"It was very overwhelming," she said. "I can really say that we weren't ready for this as a company. Because it was just me.
Suddenly, The Tiny Tassel was at a crossroads that so many other small businesses face: how to grow, while maintaining the uniqueness of products whose personal nature attracted all those customers in the first place.
Even today, many pieces of The Tiny Tassel are still handmade. So Striplin began expanding her line, first into clothes designed by her mother Keiko Striplin, who studied at Bunka Fashion College in Tokyo. She added other curated brands, with a focus on those run by black women, who remain underrepresented in the downtown Charleston retail scene.
The scaling strategy
Striplin added a collection of beaded jewelry that she and her sister design, but are made offsite.
"It allowed us to evolve," she said. "It was almost like a saving grace for us. And it's the same with our clothes – my mum designs and makes every piece by hand, and we now work with a small factory so that we can gradually move to outsourcing some of our pieces, using our patterns and our designs.
"It's really been a learning experience for us to be able to communicate that to our customers, who kind of latch on because they love the story behind the handmade and the different family sides of our business. So it's special to be able to grow and keep our customers loyal to us, even if we change every day.
Even though the Spring Street store is currently The Tiny Tassel's only physical location, Striplin calls it its "flagship" – hinting at more to come.
"We have such a following in Texas and Dallas in particular where my sister lives, so we always joke around and say this is our next Tiny Tassel," she said.
"And so who knows, maybe it will come in a year, maybe it will come in five years. But right now, we're really focused on how we can continue to strategically plan and set goals for our team here in Charleston, and really put systems in place to grow this business.
And in the meantime, serve as a beacon for other Black and South Asian small business owners.
"Here in Charleston, I don't see enough of me represented," Striplin said. "I would love, love, love for this brand to not only sell new products, but to inspire other women and girls who look like me but never see themselves represented. I was 22 or 23 years old when I started my business with $500 in savings I want to encourage them and show them what is possible and that they can do it.